LA (Light A) and Magnum Parts Crossover
There are many LA parts that can be used with Magnum engines, making the swap considerably more efficient. For example, the distributor, timing chain, oil pan, pulleys, front cover, valve covers, engine mounts and accessories are all direct bolt-ons. The Magnum also uses the standard small block Mopar transmission bolt pattern-no adapters required to bolt up your existing transmission.
Headers
LA headers will bolt up to Magnum heads. Keep in mind, the Magnum engine has blind holes for all exhaust bolts/studs. No more coolant mess while changing header gaskets!
Note: There are varying reports as to whether stock car-style manifolds will bolt up to magnum heads. Throughout our testing we have found a mismatch on the exhaust port openings between Magnum heads and the classic 340HP manifolds.
Valve Covers
Most LA Valve covers bolt directly to Magnum heads. The extra bolts for the Magnum are unused, but the machined rail on the magnum heads makes leaky valve covers are a thing of the past! Note: You should use LA valve cover gaskets with LA valve covers.
Engine Mounts
In addition to the mid-block mounts used for trucks, 5.9 Magnum engines also carry the same front-mounted motor mount ears as an LA 360. With a set of 360 engine mounts, this makes the Magnum a direct bolt-in replacement for any vehicle/truck that had an LA engine from the factory.  While you can use stock mounts, the units from engine-swaps.com are superior.
Most everything from an LA engine will bolt up to a Magnum. However, there are some notable exceptions:
Starter
The Magnum engines use the same starter that the LA small blocks do. However, if you're still rocking the old school starter, upgrading to the hi torque mini starter is highly recommended. It provides much need header clearance, and requires no modifications for installation.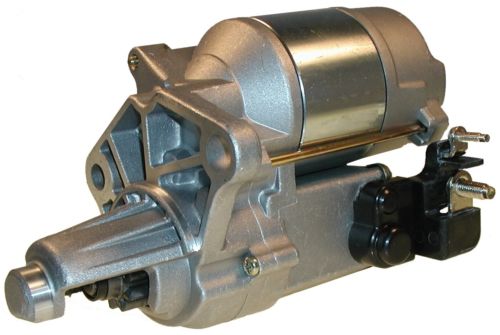 Cylinder Heads
Though LA cylinder heads will bolt to a Magnum engine, they are not compatible. Unlike the LA engines, the valvetrain on a Magnum engine is oiled through the pushrods. Some rare, early Magnum blocks are machined with oiling passages for the LA style heads, but the vast majority does not have them and are unable to oil the stock shaft mount rockers on LA heads.
Head Bolts
The Magnum uses different head bolts than the LA engine — all of the long bolts on a Magnum are the same length. Additionally, some of the Magnum engines used Torque To Yield bolts, and as such are not reusable. Fortunately, ARP makes stronger-than-stock head bolts for Magnum engines.
Oil Pan
Magnum engines are factory equipped with a truck-style rear sump pan. If you're installing the engine in a truck, no problem, but for installation in a car, you need the mid-sump standard car pan for a 360 engine. The Magnum uses a different gasket than the LA, but the good news is that you can use one of the nearly leak-proof one-piece rubber Magnum gaskets. More info here: Tips and Tricks
Intake Manifold
Unlike the LA, Magnum engines use vertical intake bolts, so LA intakes are not directly compatible. Edelbrock and Pro Products (URL) sell direct-fit carbureted intakes for the Magnum engine. The preferred solution is to have heads drilled for the LA bolt pattern, allowing access to the greater range and superior performance of LA intakes. Hughes Engines drills Magnum heads for LA intake compatibility at a reasonable price. They also sell heads that are already modified.
Cam Issues
Magnum and some later LA 360 style cams do not have a snout for the fuel pump eccentric. This is only a problem if you are using a mechanical fuel pump. If you do want to use a mechanical fuel pump, you will either need to source a cam that has one, or use this Hughes cam snout kit to install it. Be advised: It is best to call and verify the details of this kit before ordering. Some combinations require the big washer to be machined .100, and it should be possible for Hughes to do this before shipping. You will likely want to replace the stock cam, and there are ways to avoid this issue with your new cam. See the camshaft section on the Performance Modifications page for more details.
Magnum Oil Pump
Buying a new oil pump is never a bad idea. Most likely you'll have the oil pan off before installation anyway. A stock replacement pump is ideal for most applications. On a stock motor, high-volume pumps require additional horsepower and place additional stress on the intermediate shaft and distributor with no clear benefit.
Intermediate Shaft
It is very important to use the correct intermediate shaft (the shaft between the cam and the oil pump, the cam gear is on this shaft.) The stock intermediate shaft is designed to be used with a hydraulic roller cam (steel), while almost all stock LA shafts are designed for flat tappet cams (iron). A steel cam will wear away an iron gear and vice-versa. This can lead to engine failure.
Balancer/Flex Plate
VERY IMPORTANT. You cannot use the LA (360 or otherwise) flexplate and balancer with a 5.9 magnum engine. This will result in vibration and engine damage.
See the Automatic Transmission page for more details.
The Magnum also requires its own counterweight on the Harmonic Balancer. Be sure to use the correct parts if you aren't using the factory unit. The good news is Pro Products is now offering their balancers with the correct Magnum Counterweight. Those non Serpentine belt stockers are getting harder to find!
Distributor
The distributor that comes with the Magnum engine looks the same as an LA carb-style unit, but will not work for carbed applications, as it has no internal advance mechanism. The good news is that any LA-style distributor is a drop-in replacement.
Bolts
As expected, many standard bolts on the LA engine work on the Magnum. However we don't recommend the ARP dress-up kits for the LA engine for a Magnum. Many of the bolts from this kit aren't used in the assembly of your Magnum and the Magnum requires a lot of bolts not included in the kit, making the kit (in our opinion) a waste of money. Totally Stainless sells a purpose-built kit for the Magnum.
---